"The Machine in the Ghost" is the first short of Star Wars Rebels. It was released on August 11, 2014 on Disney XD.
Premise
In this special Star Wars Rebels short, Hera and Kanan take on a wave of TIE fighters -- with a big (if reluctant) assist from Chopper.
Synopsis
The Ghost is being pursued by some Imperial TIE Fighters, after it's rebel crew raided an Imperial supply depot. A dogfight eventually ensues between the two factions. After being hit, the Ghost loses its shields. Moments later, the ship also loses its comms.
The crew's astromech droid, Chopper, is then sent to repair the comms, by the ship's pilot Hera. On his way to the comms, the ship's gunner Kanan orders him to go back and fix the shields, as well as to tell Hera to fly better.
Back in the cockpit, Hera is frustrated by Kanan and decides to use the nose turret to take out a TIE Fighter, leaving only one remaining. Hera then sends Chopper to fix the comms. Frustrated by the conflicting commands, Chopper decides to use the Phantom's turret to destroy the last TIE Fighter. The crew then rendezvous in the cockpit, where they praise each other's shooting.
Cast
Appearances
Gallery
Trivia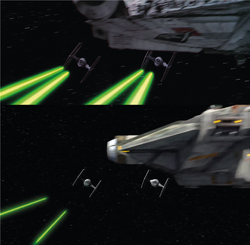 There are several sequences that resemble the dogfight between the Millennium Falcon and the TIE Fighters in A New Hope.
The story was adapted into a short story, in the book Rise of the Rebels.
The short's title is an allusion to Gilbert Ryle's philosophical term "Ghost in the Machine".
In Polish version his name is "Duch i Maszyna" (ang. "Ghost and Machine").
v

•

e

•

d

Star Wars Rebels Episodes