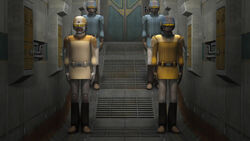 Rebel Crewmen were members of the Rebellion who commonly crewed starships, such as the Pelta-class Frigate, Phoenix Home and several Alderaan Cruisers. One of these crewmen, Jun Sato was Commander of Phoenix Squadron.
Notable Rebel Crewmen
Equipment
Rebel Crewmen wore large helmets with visors that covered their eyes. They occasionally had backpacks with additional gear. Their clothing consisted of simple blue or yellow tunics with pants and black boots.
Gallery
Appearances
Season One
Season Two
Season Three
Trivia
v

•

e

•

d

Star Wars Rebels Characters