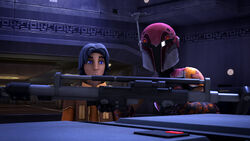 The Ghost Crew undertook a mission to steal and destroy illegal T-7 Ion Disruptor rifles from the Empire. The mission began as a means of securing credits needed to replenish their ship's supplies and continue their operations against the Empire. The crime lord Cikatro Vizago, was willing to pay for the weapons from the Empire. The mission took the rebels to Garel, which they traveled to aboard a star commuter shuttle. Aboard that shuttle was Minister Maketh Tua, who was attempting to procure the weapons from their manufacturer, Amda Wabo, with the help of two droids—R2-D2 and C-3PO, who were secretly working for Senator Bail Organa of Alderaan to destroy the weapons. The rebels were able to learn the location of the weapons in the Garel City Spaceport, and stole them before the Empire could obtain them. After a brief firefight on Garel, the rebels escaped back to Lothal.
Once on Lothal, the rebels attempted to sell the weapons to Vizago, but were quickly discovered by Agent Kallus. This led to a brief battle against Imperial forces, in which the rebels destroyed the disruptors so they could not fall into Imperial hands. The rebels escaped Kallus' forces and returned the droids to Senator Organa, who was able to learn about the rebels from R2-D2.
Appearances
Season One
Community content is available under
CC-BY-SA
unless otherwise noted.