Derek "Hobbie" Klivian was a young male pilot who, along with Wedge Antilles, defected to the Rebellion with help from Sabine Wren.
Biography
Escape from Skystrike Academy
Derek ("Hobbie") was sent to Skystrike Academy on Montross, training under Commandant Argin Relik. There, he met Wedge Antilles and Rake Gahree. In time, the trio became discontent with the direction they felt the Empire was taking and made plans to defect to the Rebellion. This information eventually made its way to one of the many Fulcrum agents, who passed the information to the Phoenix Squadron.
The information also caught the attention of the Imperial Security Bureau, which dispatched Governor Arihnda Pryce as well as Kallus, to investigate the claims. Hobbie, Wedge and Rake argued that they knew about their planned defection. However, fellow cadet Ria Talla, secretly undercover rebel Sabine Wren, overheard and told Wedge that she would help them defect.
Later, Hobbie and his friends found an opportunity to escape when Relik ordered the cadets to take part in a mock combat exercise in space. Sabine arranged for her rebel comrades Ezra Bridger and Kanan Jarrus to rendezvous their Alderaan Cruiser near the planet. At Sabine's signal, Hobbie and his comrades flew towards the rebel ship. However, Pryce deactivated the TIEs' solar collector panels, leaving them derelict in space. Pryce also ordered Captain Vult Skerris to shoot one of the TIE pods as a warning; claiming the life of Rake. Hobbie, Sabine and Wedge were soon arrested by Imperial forces.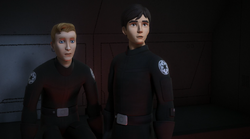 Following their capture, Wedge and Hobbie were thrown into a holding cell by Kallus. Inside the two debated their escape plans with Wedge suggesting they surprise the guards. A demoralized Hobbie was dubious of their chances of success due to the lack of an escape plan. Fortunately for them, they were rescued by Sabine, who had managed to knock out Pryce. The defectors and Sabine then fled down a corridor only to run into Kallus. However, the ISB agent had a change of heart due to his previous encounter with Sabine's rebel cell and allowed them to escape.
Heading to Hangar 24, Hobbie and his friends fled on a TIE Bomber. They managed to flee into the atmosphere but were pursued by Captain Skerris. At the eleventh hour, they were rescued by Ezra's cruiser and managed to flee aboard. Hobbie, Wedge, and their rebel rescuers then traveled to Chopper Base on Atollon. There, Wedge and Hobbie were greeted by Commander Jun Sato who formally welcomed them into the Rebellion.
Gallery
Appearances
Season Three
Trivia
Derek made his debut appearance in The Empire Strikes Back. He is the pilot who questions Princess Leia's plan of evacuation from Echo Base.
v

•

e

•

d

Star Wars Rebels Characters