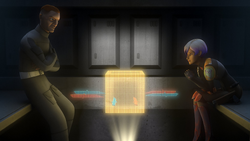 Cubikahd
was a
Mandalorian
game played using holograms.
Fenn Rau, the leader of The Protectors of Concord Dawn, played Mandalorian rebel Sabine Wren in a game of cubikahd. He remarked that her skill with the game had grown rusty since she had left Mandalore.
Appearances
Season Three
Trivia
Cu'bikad was first introduced in the Star Wars Legends novel Legacy of the Force: Sacrifice.

Its name was first mentioned in Legacy of the Force: Revelation.