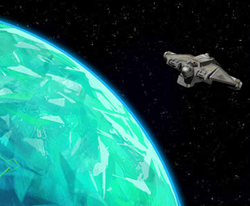 "Ahsoka Tano. I fought by her side from the Battle of Christophsis to the Siege of Mandalore."
Christophsis was a crystalline planet in the Outer Rim, located in the Christoph System.
Biography
History
During the Clone Wars, Obi-Wan Kenobi, Anakin Skywalker, Captain Rex and Commander Cody alongside the 501st Legion and 212th Attack Battalion fought in the Battle of Christophsis. During the battle, Anakin Skywalker first met his Padawan Ahsoka Tano.
Gallery
Appearances
Games
Season 2
Community content is available under
CC-BY-SA
unless otherwise noted.