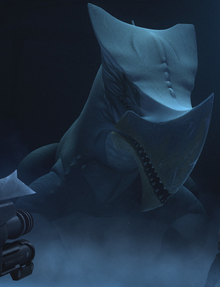 Bonzami were massive creatures that thrive in frigid temperatures such as Bahryn. Bonzami had plated spines, sharp teeth, and armored heads, including a horned mouth. They were native to one of Geonosis' moons.
Biography
When Garazeb Orrelios and Agent Kallus crash-landed on the cold surface of one of Geonosis' moons, some Bonzami attacked them, forcing the Rebel and Imperial to have to climb a large block of ice to try and escape. Eventually they did, and the Bonzami did not catch their prey.
Gallery
Appearances
Season Two
Community content is available under
CC-BY-SA
unless otherwise noted.