Davidjimnez wrote: If Bo-Katan was like you said "True Mandalorian" she'd be wearing the armor of one instead of that disgraceful Death Watch armor. This means she still consider herself as a Death Watch. But, like you said you don't know that.
Okay, first off, that was rather rude. I was using a figure of speech while explaining my thoughts on the matter. Acting all hostile and twisting my turn of phrase into an insult simply because you disagreed with what I said was kind of uncalled for. Nevertheless, I don't want to start a whole argument over this, so I'm moving on to the Mandalorian armor discussion.
If we were trying to decide what makes someone a True Mandalorian by their armor's paint job or style alone, none of the Mandalorians on this show would count. Not even Sabine would count, and despite her occational quirks, she's one of the best examples of a True Mandalorian we have. Verd ori'shya beskar'gam, a warrior is more than their armor, remember? Not every True Mando'ade wears variations on the green-and-grey they were known for in the EU. Kal Skirata wore sand-gold, Walon Vau wore black, and they both said that they should've been with Jaster Mereel's True Mando'ade at Galidraan when the group got wiped out despite never really saying whether they were affiliated or not. But considering their attitudes, plus that they were loyal to their clan, their fellow Mando'ade, to Mandalore, and they hated Death Watch with a vengeance, I think that's good enough to make them True Mando'ade. The fact that Bo-Katan's still got the blue-and-gray plates that Death Watch was known for doesn't really mean anything. Ursa Wren was Death Watch at some point and still has a Nite Owl T-visor. Does that mean she's not a True Mandalorian? No, because she's fighting for Mandalore, not for Death Watch, just like Bo-Katan does. If there were even a single Death Watch sigil still on Bo-Katan's armor, I'd question why it was there, sure. But the only sigil I see is the Nite Owls' logo, which makes since because the Nite Owls under her command. I think her actions have proved she's loyal to Mandalore alone over anything else, armor included, and that to me makes someone a True Mandalorian. Screaming "No outsider will ever rule Mandalore! You're all traitors!" at Maul and Death Watch before running off and turning the Nite Owls into the Mandalorian resistance is kind of an indicator about where her true loyalty lies.
Okay, now that I've said what somehow evolved into a defense piece on Bo-Katan's loyalty, on to more Season 4 stuff. First off, new S1-S3 recap showed up on the Star Wars YouTube channel: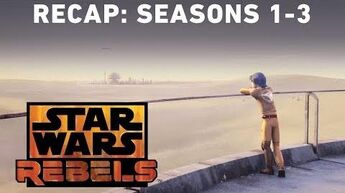 And a clip of the Spectres meeting
Lady
Bo-Katan of House Kryze: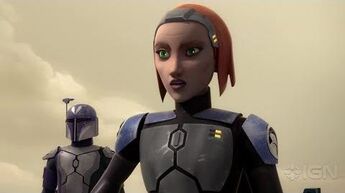 ...I didn't know she even had a title. I suppose being the sister of the Duchess and being appointed Regent by Ahsoka is behind it. And apparently she's developed an Aragorn-and-Isildur complex in the last 20-ish years as well. (I'm reading Fellowship of the Ring right now, and Aragorn's one of my favorite Tolkien characters. :) So yes, I had to use that reference.) Plus, can I just say that shot of her turning and putting her helmet on is gorgeously-animated? It almost looked live-action to me. Well done, Rebels crew, well done.
Community content is available under
CC-BY-SA
unless otherwise noted.